Das global agierende Hosting- und Domainunternehmen GoDaddy in in Scottsdale (Arizona) bekommt einen neuen CEO. Blake Irving hört Ende 2017 auf, bleibt aber noch einige Monate im Vorstand des Unternehmens. Scott Wagner übernimmt als CEO.
Zu GoDaddy gehören mittlerweile einige Hosting- und Cloudunternehmen weltweit, unter anderem die Host Europe Gruppe, deren Akquisition in Irvings Zeit als CEO fielen.
GoDaddy CEO Blake Irving to retire on December 31 from CNBC.
Irvings Nachfolger, Scott Wagner, fungierte bisher als COO bei GoDaddy und war bereits in der Rolle als Interims-CEO nachdem die Invenstitionsfirma KKR, für die er vorher tätig war, GoDaddy übernommen hatte.
GoDaddy erregte kürzlich etwas Aufmerksamkeit in Zusammenhang mit den Zusammenstößen von Demonstranten in Charlottesville. GoDaddy hat die ultrarechte Website The Daily Stormer, die sich bei diesen Protesten sehr hervorgetan hatte, 24 Stunden Zeit gegeben, um sich einen neuen Hoster zu suchen.
Iving, früher unter anderem Chief Product Officer bei Yahoo und VP für Microsoft Live, sagte auf Anfrage von CNBC, dass seine Entscheidung, das Amt des CEO zur Verfügung zu stellen, nichts mit dieser Entscheidung zu tun hätte.
Während Gründer Bob Parsons, früher auf eher sexuell betonte TV-Werbespots und die NASCAR-Rennfahrerin Danica Patrick als Testimonial setzte, ging GoDaddy unter Irving eine anderen Weg und schärfte das Profil der Marke als lösungsorientierter Anbieter für die Bedürfnisse kleiner Unternehmen, die eine Webpräsenz aufbauen müssen.
Irving ist seit 2013 CEO von GoDaddy. 2015 ging das Unternehmen an die Börse. Seither entwickelte sich der Kurs aber auch andere Kennzahlen wie Umsatz und Cashflow sehr positiv.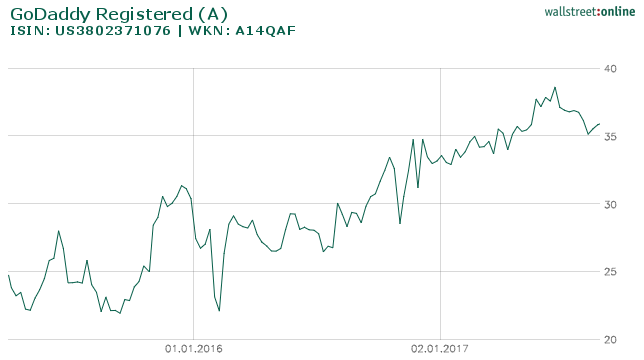 Inzwischen gilt GoDaddy als attraktiver Arbeitsplatz für Frauen in der Technologiebranche.
Gegenüber des früheren Unternehmensimage war dies ein starker Bruch, der sicher notwendig war, da es sich bei der Zielgruppe, Inhaber kleiner Unternehmen, oft um Frauen handelte.
Hier einige SuperBowl Spots aus GoDaddys Vergangenheit, die dem Unternehmen aus Scottsdale im US-Bundestaat Arizona oft den Vorwurf einbrachte, im Marketing auf stereotype Geschlechtertollen zu setzen.